Expert professionals ready to help
Like any car, computers and their systems need to be serviced and updated regularly to keep them in good working order.
Whether your hardware and software is supplied by us, or a different provider. Software support maintenance Telford based, ready to help you and happy to provide software support and maintenance and give you the peace of mind of knowing that you have expert advice and support on hand.
We can provide telephone helpdesk, remote access and site visits depending on your needs, as a result, will ensure any downtime is kept to a minimum if and when problems arise.
<a href="https://www.freepik.com/free-photo/handsome-telemarketer-man-with-laptop_1201759.htm#query=desktop%20support&position=6&from_view=search&track=sph">Image by luis_molinero</a> on Freepik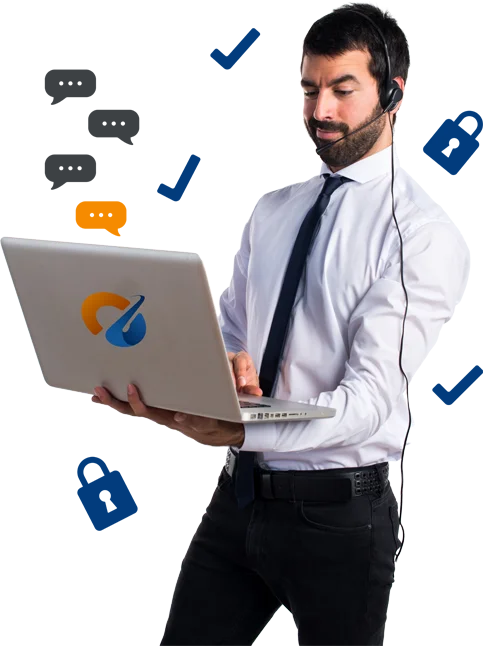 A team of experts ready to help
Ever had that sinking feeling when your computer won't switch on - or everything freezes or disappears and you just done know what to do next?
Advice & Consultancy
Reviewing your current IT infrastructure

Recommending optimum hardware and software to support your business practices

Providing any software licences you need

Liaising with any third-party suppliers as required
Support & Maintenance
Subscription, retainer or ad hoc services available

Telephone helpdesk, remote or on-site support

Monitoring, back-ups and disaster recovery

System reviews and upgrades
Available for systems from any provider
Full or partial system upgrades
---
Keep up to date with our software support and maintenance services
Enjoy the benefits the latest technology can offer
Preventing tech disasters
When new updates are introduced, older versions can become venerable to attacks. Alternatively, new features that could become very useful to you will be inaccessible.